All on 4 All on 6 are dental implant procedures that offer comprehensive solutions for replacing an entire arch of missing teeth. All-on-4 involves the placement of four strategically positioned dental implants to support a fixed dental prosthesis. All-on-6 utilizes six implants for enhanced stability and support. These innovative techniques provide patients with durable, functional, and aesthetically pleasing teeth.
What are All-on-4 and All-on-6?
Dental implant treatments called All-on-4 and All-on-6 are used to replace a whole arch of lost teeth with a fixed dental prosthesis. They are popular treatment options for individuals who have lost most or all of their teeth and seek a more permanent and stable solution compared to traditional removable dentures.
All on Four
It was created to make the most of the bone that was already there and prevents the need for extra surgeries like bone grafting. The four implants are strategically placed in the jawbone, with two straight implants in the anterior (front) region and two tilted implants in the posterior (back) region. This angulation helps to maximize the contact between the implants and the available bone, providing stability and support for the prosthesis.
All on Six
The All-on-6 treatment concept is similar to All-on-4, but it utilizes six dental implants instead of four. This approach provides even greater stability and support for the dental prosthesis. The additional two implants offer enhanced distribution of biting forces. And they can be advantageous in cases where the bone quality or quantity is compromised. The placement of the six implants allows for a stronger foundation and increases the long-term success of the treatment.
Both All-on-4 and All-on-6 treatments typically involve the removal of any remaining unhealthy teeth, placement of the implants in the jawbone, and attachment of a custom-made fixed dental prosthesis. The prosthesis is usually made from high-quality materials. And designed to mimic the appearance and functionality of natural teeth, providing a complete smile makeover.
It's important to note that All-on-4 and All-on-6 treatments require a thorough evaluation and consultation with a dental professional. They may not be suitable for everyone, as individual factors such as bone density, oral health, and personal preferences need to be considered. Dentists or prosthodontists who specialize in implant dentistry can assess your specific case. And they determine the most appropriate treatment option for you.
All on Four vs. All on Six
While researching dental implants as a replacement option for lost teeth, you may come across both "all-on-4" and "all-on-6" dental implant surgeries. While these treatments are comparable and typically attempt to produce similar effects, some significant distinctions between them may drive a dentist to prescribe one over the other.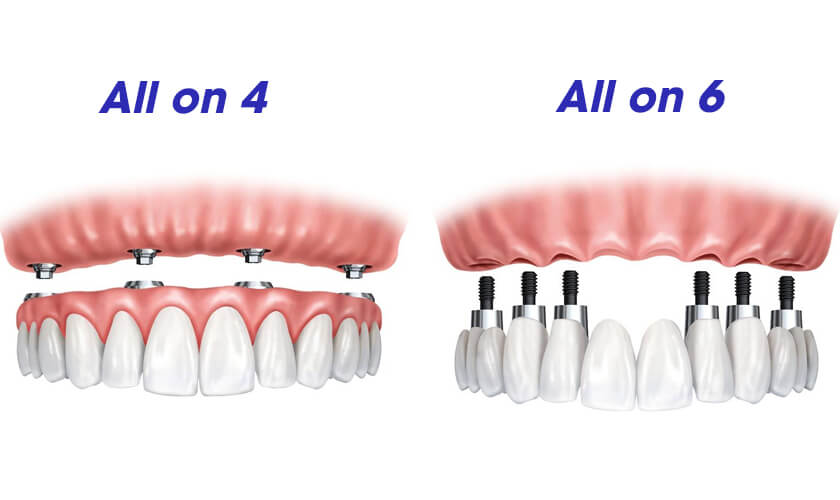 What's Better All on 4 or All on 6?
Both treatments are beneficial for those who are missing a considerable number of teeth. Both treatments necessitate the surgical implantation of dental implants into the jawbone. These implants are often utilized for several reasons, including maintaining either permanent or removable dentures and stabilizing the jaw's bone structure after tooth loss.
It imitates natural teeth and gives the appearance of real teeth
Both the all-on-4 and all-on-6 dental implant procedures last roughly two to three hours and may be finished in a single day. Both treatments call for general anesthesia, which might be advantageous if you're normally anxious about dental work. Because the fixed prosthetic arch is mounted entirely on either four or six dental implants, the implants are given their names. As a result, only one implant is required to replace each missing tooth. All of the teeth are supported by the arch, which is anchored to the jawbone either four or six times. The implants' shape and function are intended to imitate that of natural teeth by fusing with the jaw.
Both dental implants can be placed safely on the same day
Before the development of all-on-4 and all-on-6 implant technologies, patients who were missing many teeth had to have a separate implant placed for each replacement tooth. Individual implants frequently required jawbone grafting as well, and patients had to wait for the implants to heal fully—roughly six months—before having individual crowns attached to them. The dentist may securely install your temporary dentures on the same day as the extraction and implantation surgery since all-on-4 and all-on-6 implants only require four or six implants, respectively. Your bones will continue to recover and attach to the implants throughout the three to six months it takes to prepare the permanent dentures.
The number of implants placed in the mouth is different
The main distinction between All on 4 and All on 6 dental implants is how many implants are inserted in the mouth. According to some dentists, the all-on-6 dental technique produces a more appealing. Long-lasting smile and gives the denture arch a sturdier, more secure foundation.
They promote and preserve the strength of the jawbone
By considering bite and chewing mechanisms, additional stability and more even pressure distribution can help prolong the life of your denture arch. More than merely supporting your bite is accomplished by these additional implants. Each dental implant inserted into your jaw contributes to the bone's strength. Your teeth perform an unseen service by aiding in the stability of the jawbones. Jawbones become more brittle when teeth are lacking. People who have worn dentures for a long period may as a result develop a dent in their jaws when they get their teeth extracted. People may appear considerably older than they are as a result. Dental implants promote and preserve the strength of the jawbone, preventing this depressed look.
They are perfect solutions for those who want to regain their smile
Your jawbone is given additional strength and stability the more implants you have. Many patients who have lost multiple teeth and wish to restore their smile have found that all-on-4 and all-on-6 implants are both excellent solutions. Both processes are rather rapid and have a high potential for success. COH Clinic is here to help you with their specialist dentist to find out which operation is best for you and don't hesitate to ask questions or get more information at +90 (536) 934 6524. Both are excellent solutions for significant tooth restoration and permanent healing.